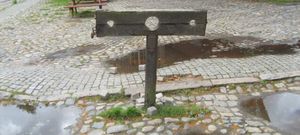 Ed Pettersen's release I Curse the River of Time: A Norwegian American Tale represents a wonderful blend of Norwegian American culture, drawing heavily on Norwegian literature for inspiration as well as his own observations of small town life in Norway. Pettersen is an established Nashville based singer/songwriter and producer and the achingly beautiful music of his new release has its roots in contemporary Folk and Americana, with a stellar Nashville backing band and Norwegian guest musicians. The song "Psalm at Journey's End" draws on the Erik Fosnes Hansen's book of the same title to pull in a character from the band on the Titanic (the band went down playing). In "Siste Reis" Pettersen combines the American genre of murder ballads with the story of a young Norwegian girl who trusts in the wrong stranger. There are several outstanding co-writes on the album as Pettersen pairs up with pop star Freedy Johnston to deliver the gorgeous ballad "Harbor Road", and then with award winning Norwegian songwriter Henning Kvitnes for "I Curse the River of Time", the title track of the album. Kvitnes, taking an interest in the whole project, assisted Pettersen with securing paintings from important Norwegian artists to create a beautiful art book as liner notes for the new record. The limited edition hardbound book is a collector's item printed on art paper with stunning colored illustrations and an inspired layout by Norwegian designer Runar Drønen.

The story of how Pettersen ended up piercing the veil of the family mystery of where his grandfather came from is told in the book that accompanies the CD. Invited to perform at the prestigious Down on the Farm festival--a long-running showcase for the best of alternative-country and Americana acts held in Halden, Norway--Ed traveled there in 2008 with more than just music on his mind. Growing up in a Long Island family with two distinct lineages--his mother's side Italian, his father's Norwegian--Ed had wondered about his father's origins, which were far more mysterious. His grandfather and even his father didn't speak about Ed's Norwegian heritage. Going to Halden provided him a chance to find out more--once he was in Norway, Down on the Farm put together a contest with a playful title: "Help Ed find his Norwegian roots." People appeared with genealogies in hand and a cousin even showed up at the festival. Ed's great-grandfather, Anton Pettersen, apparently lived on a farm on Longoya (Long Island) in the Sortland region of Norway, inside the Arctic Circle. Case solved. But not quite. There appeared to have been two Anton Pettersens on Longoya, maybe even on the same farm. The family secrets that led Ed's grandfather to run away at age 15 started to reveal themselves. To find out how the story unfolds, you'll have to get hold of the new album.

The music is the work of a man with a high-quality obsession-- a motivator and a bit of a visionary (perhaps even a Pathfinder handed down through his Norwegian Sami roots).. As co-producer of the acclaimed 2007 Song of America, Ed brought about a miraculous study of American history as experienced through song. Covering 500 years of turbulent history on three discs, S of A included performances by the brothers Robinson of the Black Crowes, John Mellancamp, the Blind Boys of Alabama, Old Crow Medicine Show, and Bettye LaVette, who nails Springsteen's "Streets of Philadelphia." The long running project remains a monumental achievement.

As an artist, Pettersen has worked long and hard to develop his craft and in doing so has achieved a depth and sophistication that is just now being recognized. An emerging Americana artist in the 90's still driven by the twin influences of Springsteen and the country rebel artists of his youth, Pettersen gained attention for his second release "Somewhere South of Here". Steeped in Americana and country rhythms, the album fell somewhere between the traditional sounds of Americana and the rocking slide guitar of country radio and the tongue in cheek single "DWIOU" (Driving While Intoxicated on You) found a place in jukeboxes worldwide and on the country line dance charts.

But Pettersen's passion for music of all genres was unlimited and led to forming the rock band The Strangely's with friend and drummer Pete Abbott, his brother Mike (one of the finest guitar players Ed knows to this day), and bass player Lori Adams. Despite the great sound of the band, without label support and the inability to tour widely, the Strangely's drifted apart leaving Pettersen with two of his finest rock cuts, the moody and dark "Broken Mirror" and the plaintive "Justine". Around the same time a mysterious illness hit Pettersen hard, sending him through a long odyssey of doctors and hospitals, and being felled by acute physical pain for which there was no visible cause. Temporary paralysis of the vocal chords was a recurring symptom and so for several years Pettersen concentrated on songwriting and production, producing the quirky and gorgeous voiced duo Rosasharn and developing the concept for the Song of America.

An innate drive to hone his craft and work with the best of the best led Pettersen to Nashville in 2002. There, working with the best meant assembling a crack recording unit dubbed The Great American Rhythm section, featuring Reggie Young, Bob Babbitt, Dave Hungate, Catherine Marx, and Ed Greene on drums. The unit played a key role in many of the recordings for Song of America and other Pettersen productions. The only explanation that Pettersen could come up for why they convened at will when called was "They liked to play with each other and I didn't tell them what to do. Am I going to tell Reggie Young who has more number one hits than any guitar player how to play?" So while other songwriters were networking with country artists in town, Pettersen started getting cuts like his marvelous "I Guess We Shouldn't Talk About That Now," on Bettye LaVette's Grammy nominated 2007 The Scene of the Crime and "I Don't Want Anything" on Candi Staton's Who's Hurting Now?, from 2009. The latter includes one of the most delicate and poignantly beautiful lines of all time "Like the beauty of a child's smile, the future on an angel's wing".

In just the last few years Pettersen has re-emerged as a full-fledged recording and touring artist and in the meantime his voice and talents have grown tremendously. Discovering his Norwegian roots and Scandinavian heritage is the catalyst for the hauntingly melodic acoustic tunes on I Curse the River of Time. But it is the amalgamation of his early years honing a few well-crafted words in advertising, working with playwright and mentor John Bishop, trying a hand at film production, overcoming hardship and illness, and through it all constantly studying music, art, literature, and life that makes Pettersen an artist of note and a poet worth discovering.

Links
Ed Pettersen has appeared on:
Good Morning America
World Café
NPR
WFUV City Folk Morning
The Bob Edwards Show

contact information
e-mail theedpettersen@gmail.com

www.songofamerica.org

Discography (writer/artist)
Desperate Times EP (DIM Records), 1995
Somewhere South of Here (Tangible Music), 1997
Spare Bedroom (Split Rock), 2002
Desperate Times (Split Rock), 2002
Unguided Missile (Split Rock) unreleased
Two T's All E's (Split Rock), 2003
The New Punk Blues (Split Rock), 2007
Mad King Edmund (Split Rock) 2011
I Curse the River of Time (Split Rock) 2013
Nashville Electric (Edgetone) 2014
Bumping Into Nothing/The High Line Riders (Blue Rose) 2015
Orson's Folly/Nashville Electric (Edgetone) 2015
Happening:A Movement in 12 Acts (ESP Disk) 2016
The Reverend Eddie Bones (Gearbox Records) 2017
We Call All Times Soon (Split Rock) 2018
Treatise/London Experimental Ensemble (Split Rock) 2018
Interstellar Transmissions/Various Artists (Split Rock) 2018
Walking Home/The High Line Riders (Blue Rose) 2018
Music Merchants/Ed Pettersen and Andy Pitcher (Bandcamp) 2018
Live at Grimey's Records/Nashville Electric (Bandcamp) 2018
The End of the Universe/Küchen-Pettersen-Turner (Split Rock) 2018
Best True Stories/Mad King Edmund Band (Safe and Sound Recordings) 2019
Child Ballads/The London Experimental Ensemble (Split Rock) 2019
The Cooper Moore Sessions (Split Rock) 2019
Plumes of Ash in Moonlight (Split Rock) 2020
The Interloper/Massimo Magee and Ed Pettersen (Bandcamp) 2020
Child Ballads Bonus Tracks/The London Experimental Ensemble (Bandcamp) 2020
Vigeland (Split Rock Records) 2020
Collected Abstractions (Bandcamp) 2020
Plastic Oceans (Bandcamp Subscriber Exclusive) 2020
Transparency (Bandcamp) 2020
You Are Not Alone/Mad King Edmund Band (Safe and Sound Recordings) 2020
The Relativity Drones Vol. 1/E, K, T +G (Bandcamp) 2020
Velour Works on Neptune/Scott Amendola and Ed Pettersen (Bandcamp) 2020
The Relativity Drones Vol. 2/E, K, T +E (Bandcamp (2020)
The Relativity Drones Vol. 3/E, K, T   (Bandcamp (2020)
Dark Before Dark/The London Experimental Ensemble (577 Records) 2021
Installation (Bandcamp) 2021
The Problem With Livia (577 Records) 2021
Crystal Palace/Edwards-Matsui-Muscatello-Pettersen (Bandcamp) 2022
Warnings/Ed Pettersen (Bandcamp) 2023
The Black Country /Self-titled (Safe and Sound Recordings and Halden New Noise) 2023
Heroes of Space and Time/Henry Kaiser and Ed Pettersen (Bandcamp) 2023
The Weekend Away (1 track)/Henry Kaiser and Ed Pettersen (Bandcamp) 2023
World Without Tears: A Concerto in 3 Movements/Ed Pettersen (Bandcamp) 2023
Discography (artist/contributor)
For Anyone Who's Listening - A Tribute
to Uncle Tupelo (Rare Earth) 2003
Hoss: A Tribute (Various Artists) 2004

Discography (other)
The Best of the Del Lords (Restless), 1999
How Many Bands Does It Take to Screw Up a Blondie Tribute? (Sympathy for the Record Industry) 2002
JBs All Stars Meet the Funk Brothers, 2005

Producer credits
Desperate Times (Ed Pettersen), 1995
Somewhere South (Ed Pettersen), 1997
Liz Graham (Liz Graham), 1998
Pieces (Denny Blake), 2001
Spare Bedroom (The Strangelys), 2002
Makeshift Valentine (Rosasharn), 2003
Two T's All E's (Ed Pettersen), 2003
Unguided Missile (Ed Pettersen-Unreleased)
Hoss: A Tribute 2004 (Various)
The New Punk Blues (Ed Pettersen), 2007
Saving Grace (Scott Kempner), 2007
The Song of America Project (Various) 2007
Summer's Here (Jeff Scott Roberson) 2008
My Favorite Waste of Time (Freedy Johnston), 2008
Our Little Secret (Alice Marie) 2011
Mad King Edmund (self titled) 2011
Adrian Krygowski EP 2012
I Curse the River of Time (Ed Pettersen) 2013
The Giuseppi Logan Project (Giuseppi Logan) 2012
...And They Were Cool (Giuseppi Logan) 2013
Nashville Electric (Nashville Electric) 2014
Bumping Into Nothing (The High Line Riders) 2015
Orson's Folly (Nashville Electric) 2015
Happening:A Movement in 12 Acts (Various) 2016
The Reverend Eddie Bones (Mad King Edmund and Cooper Moore) 2017
Errery/Onin Verz Imprint 2017
We Call All Times Soon/Henry Kaiser and Ed Pettersen (Split Rock) 2018
Treatise/London Experimental Ensemble (Split Rock) 2018
Interstellar Transmissions/Various Artists (Split Rock) 2018
Walking Home/The High Line Riders (Blue Rose) 2018
Music Merchants/Ed Pettersen and Andy Pitcher (Bandcamp) 2018
Live at Grimey's Records/Nashville Electric (Bandcamp) 2018
The End of the Universe/Küchen-Pettersen-Turner (Split Rock) 2018
Best True Stories/Mad King Edmund Band (Safe and Sound Recordings) 2019
Child Ballads/The London Experimental Ensemble (Split Rock) 2019
The Cooper Moore Sessions (Split Rock) 2019
Plumes of Ash in Moonlight (Split Rock) 2020
The Dukes of Bedford/John Russell, Olie Brice, Henry Kaiser, Ray Russell (Balance Point Acoustics) 2020
The Interloper/Massimo Magee and Ed Pettersen (Bandcamp) 2020
Child Ballads Bonus Tracks/The London Experimental Ensemble (Bandcamp) 2020
Vigeland/Ed Pettersen (Split Rock Records) 2020
Collected Abstractions/Ed Pettersen (Bandcamp) 2020
Every Leaf/Wadada Leo Smith and Tania Chen  (Bandcamp) 2020
Plastic Oceans (Bandcamp Subscriber Exclusive) 2020
Transparency (Bandcamp) 2020
You Are Not Alone/Mad King Edmund Band (Safe and Sound Recordings) 2020
The Relativity Drones Vol. 1/E, K, T +G (Bandcamp) 2020
Velour Works on Neptune/Scott Amendola and Ed Pettersen (Bandcamp) 2020
The Relativity Drones Vol. 2/E, K, T +E (Bandcamp (2020)
The Relativity Drones Vol. 3/E, K, T   (Bandcamp (2020)
The Secret Handshake of Danger/Brice-Golding-Kaiser-Moore-Prevost (577 Records) 2021
Dark Before Dark/The London Experimental Ensemble (577 Records) 2021
Installation (Bandcamp) 2021
The Problem With Livia (577 Records) 2021
Crystal Palace/Edwards-Matsui-Muscatello-Pettersen (Bandcamp) 2022
Warnings/Ed Pettersen (Bandcamp) 2023
The Black Country /Self-titled (Safe and Sound Recordings and Halden New Noise) 2023
The Secret Handshake of Danger/Prevost-Golding-Kaiser-Moore-Brice Vol. 2  (577 Records) 2023
Heroes of Space and Time/Henry Kaiser and Ed Pettersen (Bandcamp) 2023
The Weekend Away (1 track)/Henry Kaiser and Ed Pettersen (Bandcamp) 2023
World Without Tears: A Concerto in 3 Movements/Ed Pettersen (Bandcamp) 2023
Film
Theremin: An Electronic Odyssey
Orson's Folly original recording score for the Orson Welles silent film "Four Men on a Raft"
Collected Abstractions live score for the animated film
Transparency live score for the silent film
Mastering
Grizzly Man (Richard Thompson), vinyl mastering for the score of the Werner Herzog film
Playing a Part (Mike Crowder)
Errery (Onin)
Roscoe Wilson-4 song EP
Five Times Surprise (self-titled)
Gravity, Let's Go! (Artistic Differences)
My Permanent Record (Mike Crowder)
The Secret Handshake of Danger (Brice-Golding-Kaiser-Moore-Prevost)
The Interloper (Massimo Magee and Ed Pettersen)
The Dukes of Bedford (John Russell, Olie Brice, Henry Kaiser, Ray Russell)
At Iklectik (N.O. Moore and Eddie Prevost)
Crystal Palace (Edwards-Matsui-Muscatello-Pettersen)
Warnings (Ed Pettersen)
Cosmic End Time Secrets (Anthony Pirog and Henry Kaiser)
Heroes of Space and Time (Henry Kaiser and Ed Pettersen)